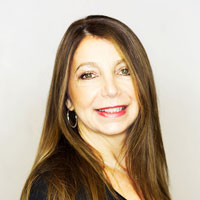 Everything you need to know about me!
I have loved doing hair for more than 25 years now! I specialize in color and men's cuts.
What inspired you to become a stylist/nail tech?
I always loved doing makeup and nails when I was younger and it was a natural, exciting new challenge for me to prove to myself that I could do hairstyles, too.
If you could spend one day with a celebrity, who would it be and why?
Sylvester Stallone! He's such an Italian stud!
What do you do when you're not enhancing people's beauty?
I enjoy good movies and popcorn! I also love to shop, of course, and to ride 4-wheelers!
What color describes your personality and why?
The rainbow. My personality adjusts to best communicate with and relate to my clientele.
If you could be one hair/nail product, what would you be and why?
Rapid Blowout Argan Oil Spray. It has 12 amazing benefits all in one! I also have many great benefits, especially anti-aging. I will keep you looking and feeling young!