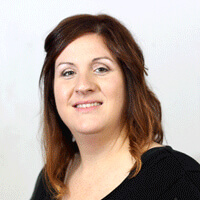 Everything you need to know about me!
I've been doing hair for 18 amazing years now. I specialize in color and haircuts. Making my clients feel really good about themselves and how they look brings me tremendous joy!
What inspired you to become a stylist/nail tech?
I love people so much! I enjoy helping people be extremely happy. I just knew this would be my way to be happy … helping other people to feel pretty and full of joy!
If you could spend one day with a celebrity, who would it be and why?
It would have to be someone easy to approach and very down to earth. With that being said … the delightful Carrie Underwood and awesome Kelly Clarkson come to my mind!
What do you do when you're not enhancing people's beauty?
My outstanding family! My sweet husband and 3 terrific kids keep me busy. If I'm not rocking at work, I'm rolling with them! They really are my world!
What color describes your personality and why?
Green! It reminds me of abundant life … living and healthy!
If you could be one hair/nail product, what would you be and why?
Bed Head After Party. It's a wonderful smoothing cream and I really like things smooth. In life I'm very laid back and just go with the flow.