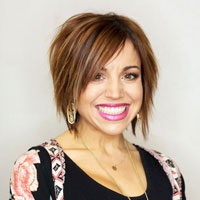 Everything you need to know about me!
Being a stylist these last 13 years has been just the most rewarding job ever. I have met so many really fantastic people over the years!
For me, it's the best feeling ever when somebody leaves my chair feeling really happy. I constantly stay up to date on the very latest trends and love to continue my education so I can be the very best stylist I can possibly be.
I have made so many friends over the years I can't begin to count them, but I strive to make every client feel special!
I also take great pride in owning Studio L Salon. I make sure it is a very comfortable, relaxing and totally inviting place for all of the clients that walk in. Come see me and I will make absolutely sure you leave happy, smiling and completely loving your hair!
What inspired you to become a stylist/nail tech?
I wanted to be a stylist for as long as I can remember. I started out as a little girl with my Barbie and baby dolls, then moved up to working on all of my many high school friends. Then I finally decided it just made perfect, natural sense to go to beauty school. I believe I was destined to be a stylist and I adore it!
If you could spend one day with a celebrity, who would it be and why?
Jenny McCarthy! Her radio show is so heartwarming and big-time hilarious, both at the same time. I think she is totally down to earth, smart and way too funny! I would love spending a day with her over many cups of coffee, lots of good laughs, and long, great conversation!
What do you do when you're not enhancing people's beauty?
I really enjoy spending quality time outdoors, whether puttering in my flower beds or handling chores on our farm. I also love cooking. I like to bring my creativity to the dinner table as well as to your hair!
What color describes your personality and why?
Yellow! I am so cheerful and very happy! I like to bring tons of sunshine everywhere I go to everyone I meet!
If you could be one hair/nail product, what would you be and why?
Clarifying shampoo – I'm a bit of a clean freak. Cleanliness is next to godliness, you know!