Nicole "Jersey" Williamson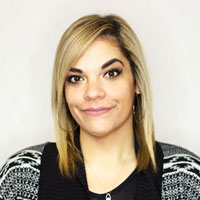 Everything you need to know about me!
I've been doing hair since 2008. I can service the whole family. Clipper cuts, extensions, Brazilian Blow-Outs. Redken, Paul Mitchell, Lanza color certified.
---
What inspired you to become a stylist?
I love to make people look as beautiful outside as they are inside. I've wanted to be a stylist since I was 3 years old.
---
If you could spend one day with a celebrity, who would it be and why?
Sandra Bullock. She seems so sweet and down-to-earth, like a mother figure and she has great hair!
---
What do you do when you're not enhancing people's beauty?
Being a busy mother to 3 boys.
---
What color describes your personality and why?
Red – I'm like a Red Hot Chili Pepper.
---
If you could be one hair/nail product, what would you be and why?
Paul Mitchel, Freeze & Shine – I'm strong & shine bright like a diamond.